Over Memorial Day we headed to the beach for a little overnight getaway. Nope, not a third honeymoon, we took little man with us! It wasn't a long drive but he's a little boy that loves to run and jump and get into stuff so sitting in the car for a couple of hours wears his patience real quick which in turn wears ours! This weekend though we were set. The kind folks over at EMI had sent me a couple of CDs to try out: Faith, Hope & Lullabies, and Faith, Hope & Lullabies: Songs of Worship. Sure, we've tried putting on the radio and we've even tried other kid's CDS but ya'll I've got to tell you (and I'm being paid nothing to write this!) that we put that CD in and within seconds he was quiet! No lie!
The worship CD is instrumental praise music that you can hum along to as well with songs like "How Great is Our God," "El Shaddai", and "We Fall Down". The other thing I love is that it's worship music at Isaac's level and the songs are well known and formatted well to be perfect for little ears. The other CD has music like, "Baby Baby," "Cry Out to Jesus," and "I will Remember You"
We found ourselves in the car singing along with our son to praise music. He was calm and it made for a really peaceful trip. Me thinks it would make perfect background music for sleeping or relaxing. Right now, if you go here you can enjoy a FREE download of "We Fall Down" and experience the music for yourself.
More than that though, 2 of my readers are going to win BOTH of the CDS each!!! How generous is that of the kind folks at Faith, Hope & Lullabies??!!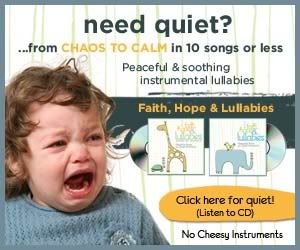 Click on the cute picture above to head over to their site and then come back here and leave a comment. The CD is available through their site for a mere $9.99, that's a GREAT deal!! To enter all you've got to do is leave a comment telling me where you would use the CD. That's it.
Want more ways to win?
1) Write about it on your blog and then let me know you did it.
2) Subscribe to Mummy Deals. All new subscriptions (dated 6/2/09 onwards) will get one more entry.
3) Follow me. You need to have a blog to do this and then add me from your dashboard.
Contest ends on Sunday June 7 at midnight and the winner will be picked and announced on Monday June 8. You must leave an email address or way for me to contact you!
New around here? Welcome! I'm a frugal Mum from England who loves scoping out bargains and saving money. My family of 3 lives on a grocery budget of $50/week (including diapers) and on my site I show you the ropes of how to do it while having a good ole time!