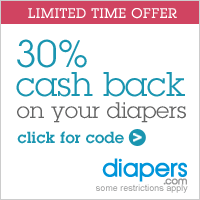 diapers.com has a CRAZY sale going on right now that will get you a bunch of goodies for under $5 including the cute bodysuit above for just $1.59. Seriously I've just taken a look and they've got a 4 piece set for baby for under $5!!!! I'm thinking it's time to stock up on baby shower gifts or for your own bundle of joy.
All you've got to do is log in to diapers.com then click on the link on the right called "sale" and "under $5 steals" and start shopping.
Also, Save 10% when you enter code GET10PCT at checkout and shipping is free on orders over $49 or just $4.99 on orders over $25.
PLUS, anyone who wants to try diapers.com (this is for first time customers only) can use code SAVEWME and get 15% off first order. Plus 30% cashback for the next 3 months. This is an AWESOME deal! Thanks Shannon!